Got the last pieces of work done on the Superfly today. Small stuff like trim the bars, adjust shifters and brakes, and tune fork air pressure.
Took it for a 60 min. ride just to see... SRAM XX is money. :) Need to do fit details, and take it to Trek Raleigh to have excess brake housing shortened. Otherwise, it's good to go !!! :)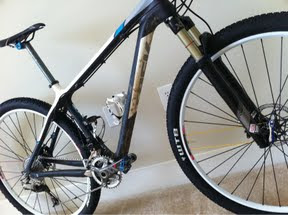 Had a little trouble sealing the rear Nano, but a second try seems to have fixed it up.
I also left the bars about 20mm wider to accommodate bar ends. I can always trim later right ?
Excited this it done. Can wait to go ride it!! Middle to end of this week??
So amped!!!
Big thanks to Trek and SRAM for helping me. I appreciate it!!!
- Posted using BlogPress from my iPhone